iPhone Input by Finger, Glove or Pen Possible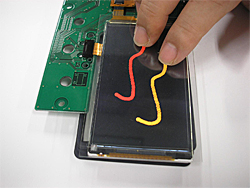 A new touch panel has been developed by Hitachi, which could make the use of iPhones much simpler, since it enables input by finger, glove or pen.
The new touch panel allows a variety of input means such as a multi-touch function for controlling the panel by using multiple fingers, a function to input small characters by using a synthetic-resin pen and a function to operate the panel while wearing gloves in a cold region.
The current iPhone and iPad models won't allow input from insulating materials, which makes it difficult to operate for precise drawings with an ordinary stylus or in cold climates.
The new touch panel is scheduled to be exhibited at Ceatec Japan 2010, October 5 to 9

Leave a comment