iPhone May Be Used as a Console for 2014 Electric Scooters

iPhone integration with cars, bikes etc. is quite a usual thing today. However, if to consider the latest rumors, Smart is going to make your smartphone one of the major elements of the vehicle - its console.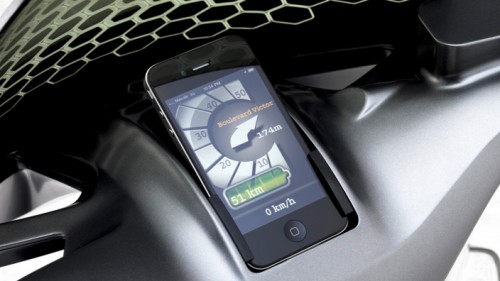 The manufacturer of an ultra-compact car says it is currently working on an 5.4-horsepower electric scooter embedded with an iPhone serving as a speedometer, range indicator and GPS navigation system.
Smart was the first to come up with an idea to built your iOS device in a car or any other vehicle. And who seems to be the second is Japanese company Terra Motors. Its A4000i electric scooter went even further - it not only shows the data to rider, but also gives the opportunity to browse through the Web. It would be very interesting to see people checking their Facebook account while standing at the traffic lights and waiting for the green light.
Turning a smartphone into a console is a good way to save some money for manufacturers. And since you can get your Apple device charged on the way to work, such portable console can become quite popular among those who often use scooters. Finally, one wouldn't be able to steal your vehicle as it would be connected with one particular phone. Brilliant!

Leave a comment