Logitech introduces new speakers for Mac

The recently launched Logitech Bluetooth Speakers Z600 is an elegantly-designed pair of wireless stereo speakers to be used with your Mac. The device enables you to listen to music and any audio from your computer, smartphone or tablet. They can easily switch between three devices by simply pressing a pause or play button on the devices.
According to Charlotte Johs, Logitech global vice president of brand development and portfolio for PC accessories, the shape and material of the Logitech Bluetooth Speakers Z600 resemble of an art masterpiece, reflecting the trends of modern art and color decisions. These speakers will match perfectly the recent minimalism models of laptops and laconic futurism of interior design. Besides, the speakers feature Bluetooth connectivity, so you will avoid the problems with wires. Summing up, the Logitech Bluetooth Speakers Z600 is a perfect decision for modern wireless, multi-device lifestyle.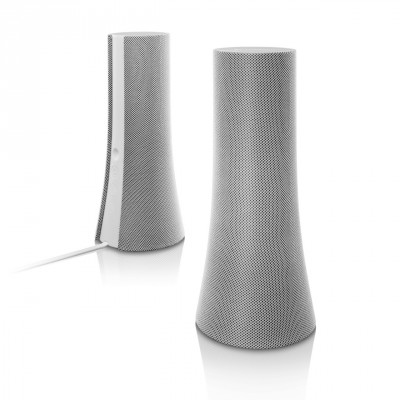 Each speaker has 3 drivers. The top panel of the right speaker features a smooth a responsive touch disc. You can control the volume by simply moving your finger around the edge. The other essential control buttons (power, Bluetooth and3.5 mminput) are hidden secretly in the back. The speakers are connected with lay-flat cables (as well as the power adaptor), so you can easily hide them on your desk or table.
The Logitech Bluetooth Speakers Z600 is likely to sell in the U.S.and Europe in August 2013, for a suggested retail price of $149.99 in theU.S.A USB Bluetooth transceiver is included.

Leave a comment