New Chrome for iOS

A new version of the most widely used web browser ever - Google Chrome - has become available for all the iOS users. The most interesting features are the ability to open links for YouTube, Google Maps, Google+ and Google Drive using the appropriate applications, reduced resource usage and the ability to access browser history. Not bad, I must say.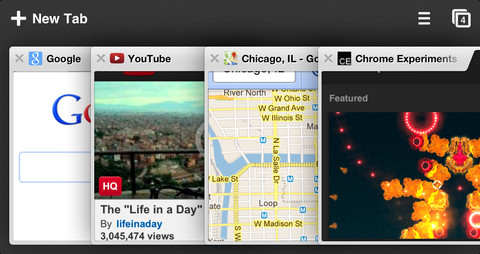 As to the full feature list, it is available either on the App Store, or below:
Interoperability with other Google Apps
Option to open links for YouTube, Maps, G+ and Drive in the app instead of the browser.
Enhancements to voice search
Text-to-speech for all variations of English, Spanish, German, Italian, French, Japanese, and Korean.
Toolbar controls are always available when using voice search
Fullscreen on iPad
Data cost savings
Reduce data usage and speed up page load times.  View data savings in Bandwidth Management settings.  This feature is being rolled out and will be available to all users over time.
Access to browser history
Stability / security improvements and bug fixes
Just in case you've forgotten - Google Chrome is compatible with iPhone, iPod touch, iPad and requires iOS 5.0 or later.
Here's the link to the App Store. Enjoy!

Leave a comment, read comments [13]