Mac OS X Lion Round Up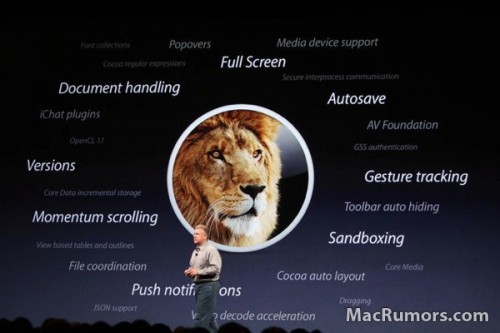 Mac OS X is almost 10 years, but it still continues to evolve and as Phillip Schiller claims "not because of hardware, but because of software."  During yesterdays keynote Apple unveiled only ten of 250 new features in Mac OS X Lion.Some of the new features include Windows Migration Assistant, a new version of FileVault, built-in FaceTime and more.
Lion will be available only through App Store as a 4 GB download for $29.99. So you pay ones and may install the new software on all your machines. Little bit strange but App did announce an exact date of MacOS X Lion release.
"New" features that were announced during keynote, include:
1. Multi-touch gestures: learned from iOS and now in Lion. Scrollbars disappear when not in use.
2. Full Screen Applications: you may have more than one full screen application at ones; to switch between them you should use swipe gesture.
3. Mission Control: is a combination of Spaces, Expose and an App Switcher.
4. Enhanced Photo Booth: The new and improved Photo Booth can follow your face and make "targeted facial enhancements", such as making just your eyes huge.
5. Mac App Store: in-app purchases, push notifications and application sandboxing for increased security will be available in App Store for Lion. Noteworthy, the Mac App Store, for six months, managed to become the main channel for selling of Mac applications, having doubled revenue of some developers.
6. Launchpad: initiated by a gesture Launchpad will make finding and organizing applications much easier for the average user.
7. Resume: Instantly resume where you were in an application when you quit it, so when you reboot, all of your windows and apps return how they were.
8. AirDrop: is a new document sharing method. Lion will find other users running AirDrop and display all the machines it can see in the Finder.
9. Mail: was completely redesigned.

Leave a comment