iOS 5 Summary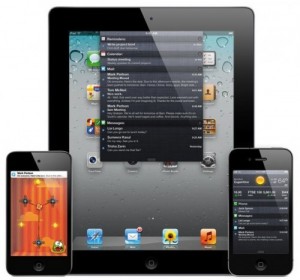 Apple yesterday, at WWDC, announced iOS 5 for the iPhone, iPod touch, and iPad. The new major changes include a completely revamped notifications system, over-the-air software updates and activation for new devices, and iTunes library syncing over Wi-Fi.
The new Notification Center will aggregate all notifications that will appear at the top of the screen and will be less obtrusive overall.
iOS 5 will be "PC free" , so a new device and iOS updates can be activated over the air.
Tunes library can be also synchronized wirelessly via Wi-Fi.
AirPlay Mirroring will also be possible to wirelessly mirror an iPad's display to a television connected to an AppleTV.
Twitter will be integrated into iOS and Contacts can be updated automatically.
New unified messaging service called iMessage that will allow iOS users to send text and multimedia messages over Wi-Fi and 3G. Messages will be pushed to all iOS devices a user owns.
Game Center will be enhanced with profile avatars, friend recommendations, and the ability to purchase new games within Game Center.
Mobile Safari will get a Safari Reader feature where users can save articles for later reading in the Reading List, which will be synced across multiple iOS devices for easy access.
A new Reminders app will offer task tracking in iOS 5.
Camera will get a shortcut for quicker access.
Mail will recieve rich text formatting, message flagging, draggable addresses.
A dictionary now can be accessed by any application.
A new News Stand application, counterpart to iBooks, will be available in iOS 5 and will download new issues automatically in the background.

Leave a comment, read comments [4]