More Buyers Opt for Larger iPhones, More Android Users Switch to iPhones - CIRP

According to a research firm Consumer Intelligence Research Partners (CIRP), 37% of iPhone 6s and iPhone 6s Plus buyers have purchased the 5.5-inch model. If to compare the results of this year with those of 2014, we may see that the number of users choosing the iPhone with a larger display has grown substantially over the past 12 months. Last year, 25% of customers decided to purchase the 5.5-inch iPhone 6 Plus, so the increase is equal to 12%.
If to speak about the number of users who switched from rival platforms, Google's Android in particular, it has changed as well. The share of former Android users accounted for 26% and this is a new record. Last year, it was equal to 12% and in 2013 it made 23% of iPhone 5s purchasers.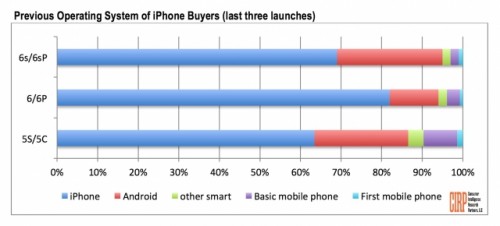 "The iPhone 6s and 6s Plus launch attracted a greater percentage of Android owners compared to a year ago," said Mike Levin, Partner and Co-Founder of CIRP.

[...]

The share of buyers coming from the Android platform for this launch more resembles the long-term trend in Android and iOS switching."
In January, Apple is expected to announce the number of iPhones sold over the last couple of months. This information will allow us to define how many people have decided to purchase a new Apple smartphone instead of an older iPhone or Android handset.
[via iClarified]

Leave a comment