More Than 100 Million iPhones Are in Use in USA, Most Are iPhone 6 or Later

According to the latest report from Consumer Intelligence Research Partners (CIRP), there're more than 100 million iPhone units in use in the United States. 58 million are iPhone 6 and iPhone 6 Plus units and 4 million are iPhone 6s and iPhone 6s Plus units. With reference to the data published by experts, we can make a conclusion that 4.7-inch and 5.5-inch smartphones are of greatest popularity among the customers in the USA. Another interesting thing is that the demand for devices, which were released in 2014, namely, the iPhone 6 and 6 Plus, is still very strong. Smaller devices like the iPhone 5s and iPhone 5c, are gradually losing their share of the US market because of relatively old hardware and their form-factor.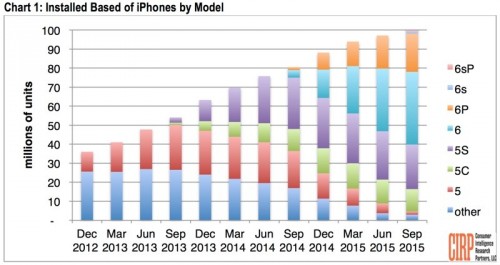 "The analysis shows the continued strength of the iPhone 6 and 6 Plus, now one year old," said Mike Levin, Partner and Co-Founder of CIRP. "We estimate a combined 60 million of these flagship phones sold in the US from the September 2014 launch through September 30, 2015. For comparison, the iPhone 5S sold about 28 million in the same period in 2013-2014."
The number of iPhone 6s and iPhone 6s Plus shipped to customers is expected to increase substantially by the end of 2015 thanks to usual strong sales in the holiday quarter.
[via MacRumors]

Leave a comment