Myth About Apple Intentionally Slowing Down Old iPhones is Debunked

The benchmarking company Futuremark has confirmed that Apple is not making its old devices slower intentionally to force users purchasing new iPhones.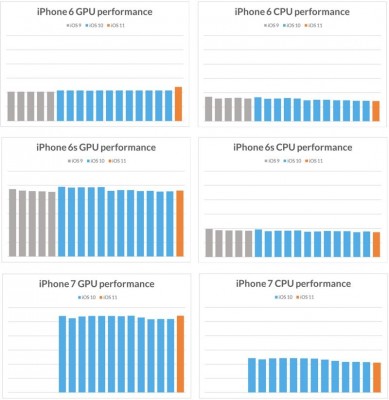 The survey started in 2016, Futuremark analyzed seven iPhone models and their work on three iOS versions. The first device to test was iPhone 5S as this is the oldest model that supports iOS 11. Futuremark used the GPU and CPU tests to check the performance and iPhone 5S showed almost the same results on all three iOS versions with minor deviations within normal levels.
Other models, such as iPhone 6, 6S and 7 show nearly same results with increased GPU performance on higher iOS versions. CPU performance has dropped a bit, but a user would not notice the difference. Futuremark says "there are no signs of a conspiracy." Instead, Apple does a good job in keeping its old devices on an acceptable level.
Although, the raw data from CPU and GPU tests don't represent the whole picture of the performance of older iPhones. Despite Apple does not slow down its iPhones intentionally, new features requiring more resources may make older devices feel slower.
[via MacRumors]

Leave a comment