New OS X 10.8.5 Release Is Around the Corner

A new version of OS X Mountain Lion 10.8.5 is said to be released in the coming days. According to the unidentified sources, the so-called "Supplemental Update" is already being tested by Apple - that means that very soon it will reach the end-users. As usual, the new OS X version will be available through Software Update menu on the Mac App Store.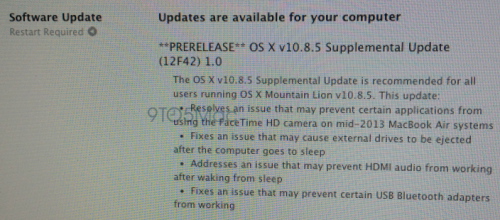 And here's what the update will contain (via 9To5Mac):
The original OS X 10.8.5 release arrived earlier this month, and it included improvements to Mail, WiFi connectivity, and screensaver functionality. The follow-up will fix some bugs that have been reported with the original release. According to the release notes (shown above), the supplemental upgrade includes fixes to FaceTime on newer MacBook Airs, USB, HDMI, and external drive connectivity.
Apart from this update, Apple is expected to launch OS X 10.9 Mavericks in October.

Leave a comment