New Research: 40M iPads To Be Sold In The Next 3 Years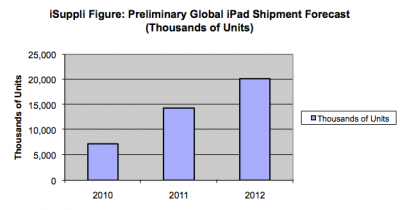 New forecast published by iSuppli on Friday revealed that approximately 14.4 million iPads will be sold in 2011 and 20.1 million - in 2012. This year won't make a sales record because most of the consumers will buy it for its unique touch-screen. By 2011-2012 the device will become more popular with the increasing number of App Store applications, declining prices and improved functionality, so people will more clearly understand its possible purposes.
But iSuppli claims the research to be "conservative", because it doesn't take into account unforeseen features that Apple can quickly add to iPad to boost sales (for example, integrating Adobe Flash support). However the numbers rely on a patented multi-touch technology that will mainly define the popularity of a new device.
iSuppli director of monitor research Rhoda Alexander admires iPad:
"Touch is the new standard for user interfaces, providing a naturally intuitive way of operating an electronic device, whether you are two or 92. The tablet form factor is ideally suited to touch. The iPad represents an intriguing mix of two devices that have struggled to gain traction for years: Internet appliances and tablet PCs".
Alexander also thinks that limitations of the device are compensated with a huge number of easy and intuitive apps and the latter will define whether the iPad hardware will be overlooked for upgrade. The report says that falling number of sales can also make company to change their strategy.
It is noticeable, that the numbers given by the research are higher than any other - for example the WSJ said the sales will be between 1 and 5 million dollars in the first year. Analyst at Piper Jaffray Gene Munster believes the iPad sales to reach 2.7 million in 2010.

Leave a comment