New Rumor Confirms Modernized MacBook Air To Appear This Month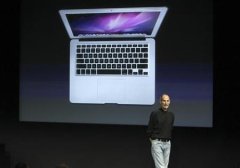 A new report confirmed that the production of renewed MacBook Air notebooks will be started this month by Apple and provided unverified information about the release of high-resolution iPad 3 later this year.
According to Taiwan's Economic Daily report, which was published on Tuesday, new MacBook Air will be shipped to the market in late June and, as Reuters noted, the first shipment will consist of 380.000 units. The report also reveals the total amount of shipments of existing and the new MacBook Air models makes it possible to expect that 460.000 units will be manufactured this month.

However, the information in this report was recycled from an original report of AppleInsider by citing "industry sources." As we reported earlier, last week AppleInsider was first to publish a report that an order for 380.000 MacBook Airs with Sandy Bridge was placed by Apple this month and the 11.6-inch models make up about 55 percent of this shipment. But AppleInsider does not confirm the info on the sell date.
This weekend Chromic also mistakenly reported that revamped MacBook Airs were to come this week, but eventually changed his story and revealed that unlocked iPhone 4s will be available as soon as this Wednesday in Apple Stores in the U.S (which appeared to be true).
The report also reveals the launch of iPad 3, which will reportedly sport image resolution 5-6 times greater that second-generation iPad, is planned to be conducted in the fourth quarter. But this leak appears to be unbelievable and is obviously mentioned only for completeness of information.
Previous reports reveal next-gen iPad 3 may get a 2048x1536 screen and most probably won't be released until 2012. It was also reported that Apple has already started certifying components for iPad 3, and manufacturers of those components consider that the release of new device should be expected next year.

Leave a comment