How to downgrade from iOS 5 beta back to iOS 4.3.3

It is surprising how good the first beta version of iOS 5 is, but if for any reason you need to go back to iOS 4.3.3, we'll show you how. There are at least two ways to do that:
Downgrade via XCode (Mac Only + dev license)
This is the easiest way to get back to a previous version of iOS. The bad part is that it can sometimes put you into a never ending DFU loop. You can typically use iRecovery to kick you out of it.
1. Download the iOS 4.3.3 here (it is better to use Firefox).
2. Open XCode and from the top select Window and then Organizer.

3. You should now see your device. Under software version, it will show you are on iOS 5. Choose to restore from Other Version.

4. You can then navigate to the iOS bundle you'd like to restore to that you downloaded and saved in step 1.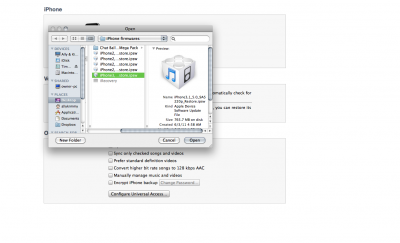 5. XCode will do everything. You're done. If you're not lucky, go to the next step.
6. You'll need to use a program like iRecovery. Faster iRecovery is good and preffered. Also, download the libusb files for Mac as well, since iRecovery uses these.
7. Simply run iRecovery. It should throw your phone out of recovery mode.
8. After this, simply restore in iTunes and you should be downgraded. The first time you may get an error, simply restore again like you normally would and it should downgrade successfully.
Downgrade via iTunes beta with TinyUmbrella (Mac and PC)
1. Download TinyUmbrella here.
2. Download and install iTunes 10.5.
3. Disconnect your device (iPhone, iPad or iPod Touch).
4. Run TinyUmbrella and click on Advanced.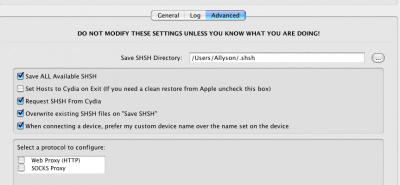 5. Uncheck the box that says Set Host to Cydia On Exit.
6. Restart your computer.
7. Now plug in your device and turn back on your computer.
8. After your computer restarts, you'll need to go into iTunes. It may bring up error messages again. That's okay. Just ignore them for now.
9. You'll need to put your device into DFU mode.
Hold down both the Sleep Button (on top of your device) and the Home Button (on the front underneath the screen).
Keep them both held down from about 10 seconds. (If you see the Apple logo, you've held them too long and will need to start again.)
Let go of the Sleep Button but keep holding the Home Button for about 5 seconds. (If you see the "Plus into iTunes" screen than you held it too long and will need to start again.)
If the screen stays black, that's it! Your iPhone, iPod touch, or iPad should now be in DFU mode.
If you don't do it correctly, just try again. When you get your device into DFU mode correctly, iTunes will pop up and tell you the device can't be used until it is restored.

10. Download the iOS 4.3.3 here (it is better to use Firefox).
11. Restore your device to iOS 4.3.3.
12. Done!

Leave a comment