Next-Gen iPhone to Get Brand New 12-Megapixel Camera

Earlier this year, several reliable insiders claimed Apple's next-generation iPhone will get a 12-megapixel camera. According to something rumored to be a leaked internal document, the guys from Cupertino are indeed planning to equip their upcoming handset with a brand new photo sensor capable of recording 4K videos. The document was shared by a Foxconn employee, so I guess we can believe what we see. The photo of the leaked document is available either on a Chinese microblogging website Weibo or below. You can take a look right now.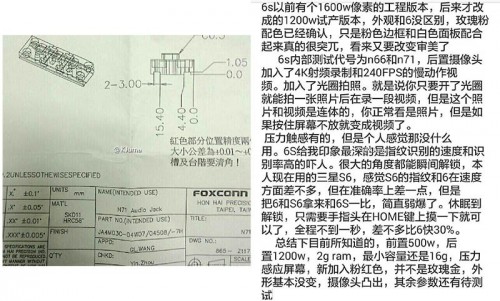 As can be seen on the image above, the 4.7-inch iPhone 6s and the 5.5-inch iPhone 6s Plus will also get 2GB of RAM. Just as we expected.
Weibo user KJuma has since removed the pair of leaked documents he shared on the Twitter-like service, but not before the images began making their rounds on the web. The documents also corroborate multiple rumors claiming the so-called iPhone 6s ("N66") and iPhone 6s Plus ("N71") will have 2GB of RAM.
Although Apple remains silent, reliable insiders claim that the release of the next-gen iPhone will take place in September. Such rumors go in line with Apple's usual product update cycle.
[via MacRumors]

Leave a comment, read comments [2]