Nightmode9 Jailbreak Tweak Brings Night Mode to iOS Interface

There's a big number of people using jailbroken iPhones and iPads. It's quite obvious that there're lots of benefits one can enjoy while using a jailbroken device and probably one of the most valuable is the ability to tweak the settings of the gadget and improve it in order to fit the needs of the owner.
Using the traditional iOS bright color theme may be quite inconvenient and in some cases even dangerous for people who have poor eyesight. So far, the only possible way of minimizing the negative impact of bright colors was enabling the grayscale mode in the Accessibility settings, but now, thanks to the jailbreak tweak called Nightmode9 it is possible to turn off the lights and make your device in something similar to the night mode available in certain applications for reading.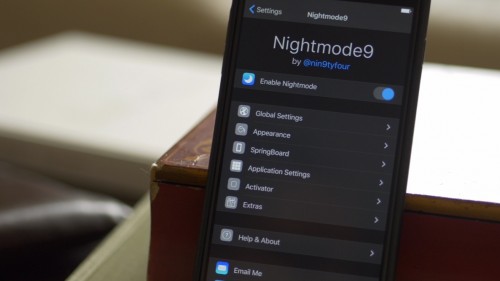 The tweak works with all apps and menus and is a perfect tool for those who want to change the way the iPhone interface looks. There're lots of configurable things and settings, so tweaking your phone or tablet is quite an easy task.
Nightmode9 is available on Cydia's BigBoss, you can get it for only $0.99.

Leave a comment