Opera Mini for iPhone will be shown next week at MWC 2010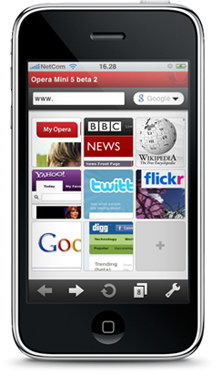 Opera Software company just announced that it plans to show Opera Mini browser for iPhone during the Mobile World Congress 2010 (MWC).
"We are thrilled to offer journalists and partners an exclusive preview of Opera Mini for iPhone during the year's biggest mobile event," said Jon von Tetzchner, Co-founder, Opera Software. "This is a unique opportunity to introduce the fast, feature-rich Opera Mini experience for the iPhone, and to showcase our latest beta releases of Opera Mobile and Opera Mini on other platforms and devices. Opera's mission is to bring the Web to the world, and by making Opera Mini available on yet another platform, we are one step closer."
But remember that Apple would never allow alternative browsers that are not based on WebKit. So what's the point of all this? A Cydia Store release? The real intent might be to draw attention to Opera's Mobile and Mini browsers running on other platforms where the software is actually released like Symbian, Windows Mobile, and Android.

Leave a comment