More than 7 million users have tried to download Flash Player in December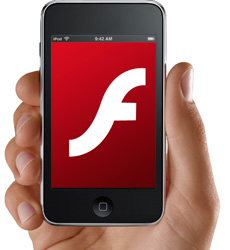 Flash for iPhone has a long history. Back in March 2008 Adobe CEO announced that they start working on a Flash player for the iPhone. Last year Apple and Adobe again announced that they were working together. The problem is that we haven't seen any result of this work. This year we had iPad Flash-less introduction and very aggressive words from Steve Jobs calling Adobe lazy.
Adobe is keeping track of its download stats using a script installed on their official website. Statistics show that as many as 7 million iPhone and iPod Touch users have tried to download the Flash Player. That number is up from 3 million download attempts from iPhones and iPod Touches in June. These numbers are shocking. They clearly show that iPhone and iPod Touch users want Flash, despite Apple's decision not to support it. However don't be surprised if Apple decides to ignore Adobe once again.

Leave a comment