Pangu v1.1.0 jailbreak is now available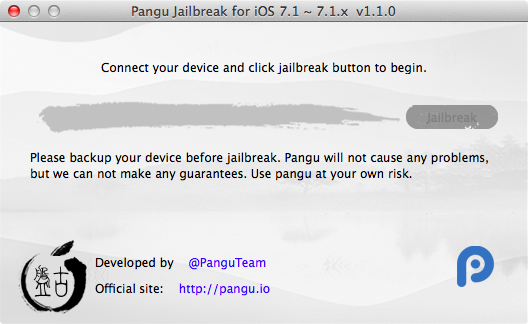 UPDATE: Works on iOS 7.1.2 as well.
The Pangu team has updated iOS 7.1.1 untethered jailbreak utility to version 1.1.0. They added support for Mac OS X and English version, fixed several bugs (including boot loop bug) and removed the ability to install pirate appstore (PPSync) from English version. Unfortunately to jailbreak community they also used another new exploit instead of i0n1c's one used in v.1.0. This is no good, since Apple might both in iOS 8 or even iOS 7.1.2.
What's New In This Version:
1. Add English support.
2. Optimize the file size.
3. Fix the boot loop bug.
4. Using new info leak bug instead of @i0n1c's
5. Add online self verification
If you successfully jailbroke your iOS 7.1.x device before using Pangu, then there is no reason for you to do anything at this time. If however you've been having issues, it might be a smart thing to do to restore and try again with Pangu 1.1.0.
You can download Pangu 1.1 for Windows and Mac OS from here. Our famous step-by-step instructions are available here.

Leave a comment