PC Market Grows and Mac Shipments Go Up 4.1% in Q1 2017

According to the latest report from a research firm IDC, global PC shipments grew in the first quarter of 2017 for the first time in 5 years. The 0.6% growth is an indication that people still use computers and that computer manufacturers still have something to offer. Apple's Mac shipments grew 4.1% to 4.2 million units compared to the first quarter of 2016 and allowed the Cupertino company to get the fourth spot in the top computer vendors ranking.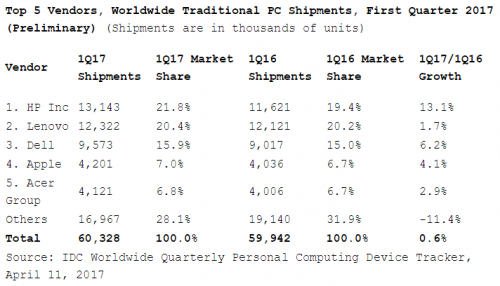 The first place in the ranking was taken by HP. The company shipments grew 13.1%. Lenovo took the second one with 1.7%, while Dell managed to obtain the third one with a 6.2% growth. The last vendor in the top-5 ranking is Acer with a 2.9% growth.
Last week, Apple pre-announced major updates of the Mac Pro and iMac lineups. The first device will get a new modular design that will allow users to upgrade the hardware as they need this. The updated iMac will get new processors and graphics chips as well as other major improvements. These devices may boost the Mac sales, but currently, their release date remains unknown.
[via 9to5Mac]

Leave a comment