Samsung is World's Top Smartphone Vendor Again – TrendForce

Samsung has once again become world's main smartphone brand by market share. The Korean tech giant has regain its lead and beaten Apple. The company has lost its positions after the fiasco with the Galaxy Note 7, but looks like now the demand for its handsets is strong again. This allowed Samsung to grab the market share of 26.1% in the first quarter. Apple's market share is now equal to 16.9%, according to TrendForce.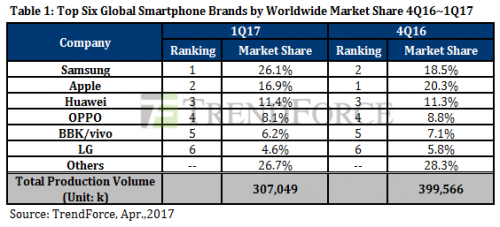 Last quarter, however, the figures were slightly different. Apple's global smartphone market share accounted for 20.3%, while that of Samsung was 18.5%. Take a look at the chart above and compare the results of other vendors with the results gained by Apple and Samsung.
In September, Apple will announce three new iPhones, namely, the OLED iPhone 8 as well as two LCD handsets, the iPhone 7s and iPhone 7s Plus. Hopefully, these devices will be better than the Galaxy S8 lineup in terms of design and performance and will let the company beat its rival.
[via iClarified]

Leave a comment