iPhone 5c sales are reaching those of iPhone 5s

Localytics has published a new report that claims San Francisco to be the best selling location for the iPhone 5s while in general the gap between iPhone 5s and iPhone 5c sales is dwindling.
After close to one week of sales, we found that, overall, New York, Los Angeles and San Francisco held the largest market share in the U.S. for iPhone 5s and 5c activations. This is to be expected given the size of their populations. However the real surprise was that San Francisco came in third. Considering San Francisco is actually the 11th largest market in the U.S., its status as a technology haven also, clearly, translates to a culture of early adoption.

We then looked at the distribution of the iPhone 5s and 5c for each of the cities. Again, San Francisco stood out, showing the strongest preference for the 5s over the 5c (85% vs. 15%) among the top 12 major U.S. cities. Philadelphia showed the lowest preference with 72%.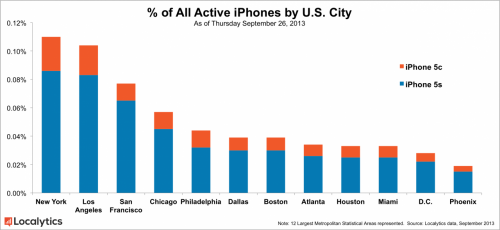 The research shows that on September 22 iPhone 5s and iPhone 5c devices represented 1.4% of all active iPhones in the U.S. The figure grew to 2.0% by September 26nd. Currently iPhone 5s is in the lead although iPhone 5c is quickly catching up. Over the period the gap has decreased from 3.4x to 2.9x.
AT&T tends to adopt more new devices, 1.02% of the iPhones on its network are iPhone 5s and iPhone 5c. The figures for other carriers are much lower -  Verizon has 0.70%, Sprint reached 0.18%, and T-Mobile gained only 0.12%.
The charts below will offer you more information.

Leave a comment