Photo of iPad 3 Rear Shell Suggests Minor Physical Changes, Larger Battery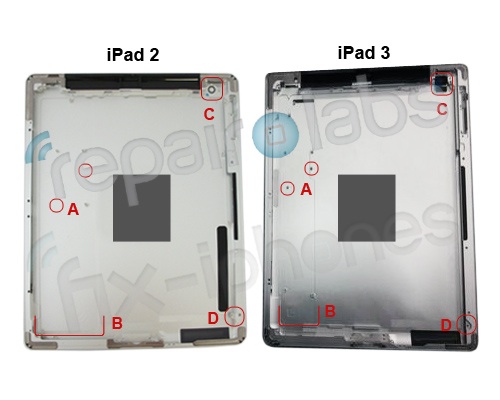 RepairLabs reports that it has managed to obtain a photo of what is claimed to be the rear shell of the iPad 3 and compared the part with the corresponding version of the iPad 2. Based on the photo, the site concluded that the iPad 3 version demonstrates a few minor changes with a narrower logic board that could make room for an expanded battery.
In a side-by-side comparison of the new component with the iPad 2 back panel, the repair site found four key differences:

The alleged third-generation iPad back panel has "very different" mounts for the logic board, implying that the shape of the logic board in the next iPad will also be a major change.
This would allow for a larger battery within the iPad 3, because the width of where the logic board sits is much smaller on the new component.
The component also reveals that the camera on the new iPad will be "different," though any changes from the current iPad 2 cannot be deciphered from the panel.
Finally, the site also declared that the LCD display will also be "different" than the current iPad 2, based on different mounting in the new back panel. Apple is rumored to utilize a new, high-resolution Retina Display for its next iPad.
The photo does not show the backside of the rear shell that would be visible on the assembled device, nor does it show an edge view that would allow for a thickness comparison to the iPad 2.

Leave a comment