Photos showing the back shell of the second generation iPad mini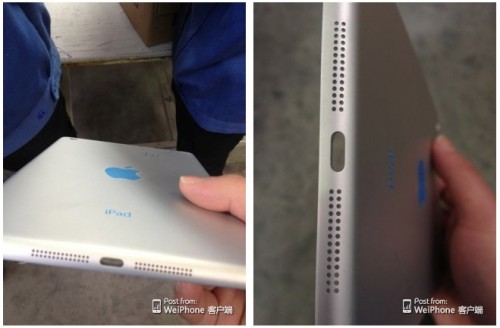 Mobiles Pie indicates on the forum of Chinese website WeiPhone some photos showing what may be on the back of the second generation iPad mini.
The photos show that the chassis is very similar to the current model of the iPad mini, although its body may seem a bit thicker. It's difficult to tell whether the increase in thickness is an original design to add Retina display and the concomitant improvement in battery life, or it is just an optical illusion that the edges of the shell is not beveled, as in the final product.
The photos also show the bright blue Apple logo and the "iPad" text on the back shell, but it is possible that this is just a part of the process that is used to create a mirrored logo and text, as seen in the current production. In addition, it may be an attempt to add additional color to the iPad mini, as Apple did with the iPod touch in September last year. Also there were rumors that this technique can be used in cheaper versions of the iPhone. The user who posted the image on the forum said it was the initial process of handling the back of the iPad mini.

Leave a comment