Pilots Allowed To Use iPad Instead Of Papers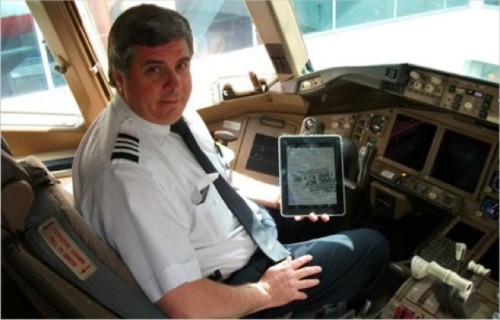 The U.S. Federal Aviation Administration has allowed airlines to use the iPad instead of flight bags, which in turn will help pilots to save more paper, money and time.
As a rule, cockpits are full of flight manuals, log books and other documents with average weight about 40 pounds. So now pilots can replace all these papers with half-pound iPad onboard.
Thanks to the availability of hyperlinks and color interface in electronic flight manuals, their usage is said to become much easier. Also their update is now performed automatically and takes little efforts, as opposed to the tiresome process of replacing old pages with the new ones.
In May Alaska Airlines was the first airline company that received permission for using the iPad. Its pilots were allowed to use the iPad for digital systems, flight and performance manuals.
Director of flight standards and pilot for Alaska Airlines Jim Freman thinks that iPad is very time-saving device:
"The iPad allows pilots to quickly and nimbly access information. When you need to make a decision in the cockpit, three to four minutes fumbling with paper is an eternity."
The company plans to use more applications such as aeronautical maps and charts, but that should be considered for approval by FAA beforehand. FAA's deputy director of flight standards said that each airline company needs to file a proposal on how it is going to use the iPad and to provide facts that the software and device are safe and effective.
Apart from saving time and effort, the iPad can also cut pilot healthcare costs arising from back and shoulder injuries. A pilot with American Airlines David Clarke said to New York Times:
"Cockpits are small, and lifting that thing up and over your seat causes damage, particularly when you consider a lot of pilots are over 40."

Leave a comment