President Obama Befuddled by the iPhone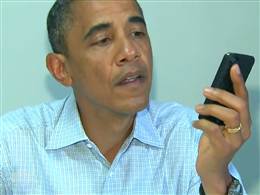 A new video from MSNBC claims President Barack Obama had some difficulty using the iPhone to place a call.
A reporter on the scene said President Obama appeared to be befuddled by an iPhone and couldn't place a call at first. In his own defense, Obama reminded everyone he was a Blackberry owner. NBC's Brian Williams reports.

Leave a comment