Real Racing 3 for iOS Updates with New Features

One of the most popular games on the App Store - Real Racing 3 - was updated on August 21. As to the improvements, EA says it added the difficulty tuning, new cars, tracks, events, cameras and more to the game.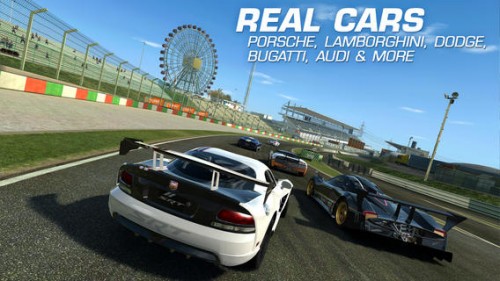 If to speak about the racing itself, it became more complicated and interesting.
Featuring Real Racing's largest roster of cars yet, don't miss our new manufacturers like Porsche, Lamborghini, Dodge, Bugatti, and Audi.
In another first for the Real Racing series, burn rubber on a full lineup of real tracks in multiple configurations from top locations around the world, including Mazda Raceway Laguna Seca, Circuit de Spa-Francorchamps, Silverstone, Hockenheimring, and many more.
Like nothing you've seen before, our innovative new Time Shifted Multiplayer lets you race anyone, anytime – even if they're offline!
Compete in over 1000 events like cup races, eliminations, endurance challenges, and drag races.
The Premier Racing Experience
Powered by the remarkable new Mint™ 3 Engine, Real Racing 3 features persistent car damage, fully functioning rear view mirrors, and dynamic reflections for a super-enhanced racing reality.
The game is compatible with iPhone 4, iPhone 4S, iPhone 5, iPod touch (4th generation), iPod touch (5th generation) and iPad and requires iOS 4.3 or later.
Real Racing 3 is surely one of those apps you should have installed on your device, so go and get it from the App Store for free.

Leave a comment