Rear Shell Of iPad 3 Measures In At 9,5 mm, Just 0,8 Thicker Than iPad 2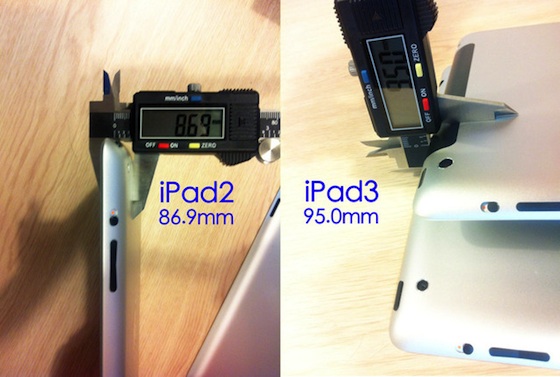 While comparison pictures of the rear shells of the iPad 3 and iPad 2 have shown that the new model has slightly increased thickness and some reports have noted that difference is about 1mm, no exact measurement had been made to quantify the exact dimensions of the new model.
Now Apple.pro points to a new photo that shows rear shells of both models being measured with a caliper. The picture shows that the rear shell of iPad 2 is 8.69 mm thick while the rear shell of the new model measures in at 9.50 mm thick.
According to official specifications for iPad 2, the tablet is 8.8 mm thick, which is slightly thicker than its rear shell. Given an almost identical design for the new iPad model, the tablet would come in at about 9.6 mm, which is 9 percent thicker than the iPad 2 but well below original iPad's 13.4 thickness. Sources who have seen the rear shell of iPad 3 suggest that the difference in thickness will be almost imperceptible to users.

Leave a comment