Ryan Petrich Releases Activator 1.9.6 with Support of iOS 9 and 3D Touch

Ryan Petrich has recently released the updated version of probably the most popular jailbreak tweak called Activator. Version 1.9.6 now supports iOS 9 and 3D Touch, a feature included to the recently-released iPhone 6s and iPhone 6s Plus.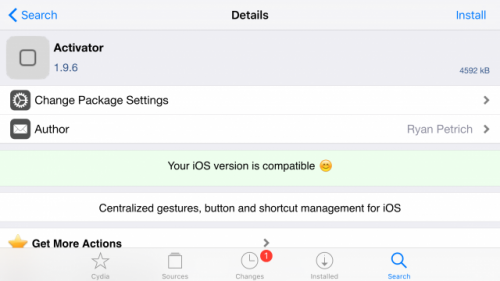 In case you don't know, Activator allows users to noticeably extend the functionality of any jailbroken iPhone, iPad and iPod touch unit by assigning a set of additional features to Home and Power buttons, volume rockers and default multi-touch gestures.
The list of improvements brought with the version 1.9.6 is available below:
Support of iOS 9 and 3D Touch gestures on compatible devices
Support of multi-touch gestures on iOS 9
Fix for the black status bar when launching the app on iOS 8 or later
Other minor enhancements and bug fixes
As you might have guessed, to use the latest version of Activator, you need to have a compatible jailbroken device running iOS 9. To jailbreak your handset or tablet, you should use the Pangu utility for Windows and our instructions. Before hacking your iPhone, iPad or iPod touch, make sure you create a backup.

Leave a comment