Samsung Customers Are More Satisfied with Their Smartphones than Apple Customers

According to the American Customer Satisfaction Index, Samsung users are more satisfied with their gadgets than Apple users. In particular, the satisfaction rate grew 6.6% over the last 12 months to 81%. If to speak about Apple, it saw a 2.5% decrease in customer satisfaction in 2014. "Only" 79% of users are fully satisfied with their iPhones.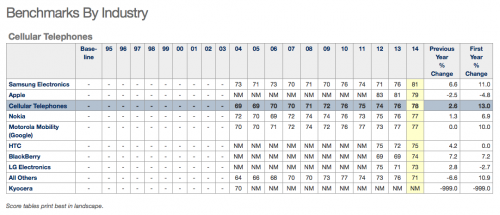 The American Customer Satisfaction Index is based on the results of a survey conducted among 70.000 of American users. Unfortunately, the analysts behind the poll haven't commented on the reasons for Samsung's increase or Apple's decrease in satisfaction rate this year.
Samsung managed a 6.6% increase in customer satisfaction for 2014 going from 76% to 81%. That tied Apple's score from last year; however, Apple saw a 2.5% decrease in customer satisfaction this year bringing it down to 79% and putting it in second place.
As to the other smartphone vendors, which can boast high customer satisfaction level, they include Nokia with the result of 77%, Motorola Mobility (Google) with 77%, HTC with 75%, BlackBerry with 74% and LG with 73%.
[via iClarified]

Leave a comment