iPhone 6 Users Can't Add Cards to Apple Pay After They Restore Their Smartphones

According to the latest complaints that may be found on Apple Support Communities website, a number of users have encountered with an issue with Apple Pay that prevents them from adding a new card to the service after restoring the iPhone 6. The problem is reportedly connected with the security settings of Apple Pay aimed at protecting sensitive data from thieves as well as with some flaws in the hardware and software of Apple's handsets.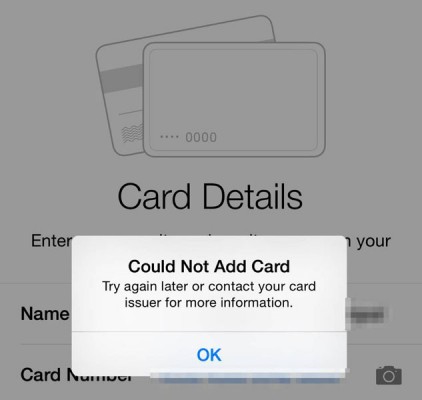 In fact, the problem is so serious that neither users themselves, nor Genius Bar specialists can not fix it. The only possible solution is the replacement of glitchy smartphones.
Multiple iPhone 6 owners are reporting in an Apple Support Communities thread that they are unable to add cards back into Apple Pay after their phone has been restored – whether as a new phone or from a backup. According to reports there, Apple has been able to resolve the issue only by replacing the phone.
I guess that the guys from Cupertino will fix the problem as soon as possible. You see, they are planning to launch their mobile payments service in the UK in the first half of 2015. For this launch to be successful, Apple Pay should be flawless.
[via 9to5Mac]

Leave a comment