Half of Devices Activated During Christmas Week Were Apple Devices

According to the latest report from a research firm Flurry, more than a half of new mobile devices activated during the Christmas week were Apple's iPhones. This means that the sales results of the holiday quarter will surely please the guys from Cupertino.
To be precise, I should say that Apple accounted for 51.3% of new smartphone activations in the period of time between December 19th and December 25th. As to the closest rivals, they include Samsung with 17.7%, Nokia with 5.8%, Sony with 1.6% and LG with 1.4% of activated devices. As you may see in the chart below, the gap between Apple and its rival from South Korea is massive.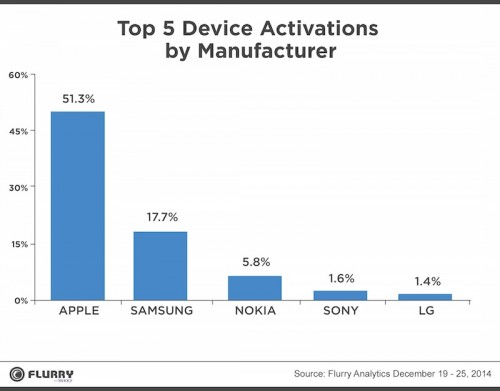 Xiaomi, Huawei, and HTC all had less than one percent of device activations, which Flurry notes could be related to their popularity in Asian markets where the holiday season isn't the big gift-giving event it is in other parts of the world.
Flurry researchers also claim that thanks to the release of the 5.5-inch iPhone 6 Plus the market share of the so-called phablets began to rise quickly. The smartphones with normal size still dominate, however, the number of users who decide to purchase a handset with a larger display is now noticeably higher than in the year-ago quarter.
[via MacRumors]

Leave a comment