Sharp to Begin Retina Display Shipments for New iPad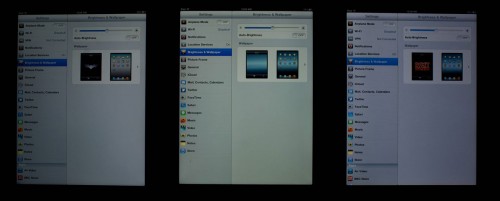 Left to Right: iPad 3, iPad 3 (Yellow), iPad 2
According to The Wall Street Journal, Sharp Corporation is still doing its best to start ramp up production of Retina displays for the new iPad. The company is expected to start shipments in the nearest feature.
The panels are to be used in Apple Inc.'s new iPad, according to people familiar the matter. The first batch of the U.S. company's newest tablet, released Friday, were not equipped with Sharp's LCD panels after the Japanese company faced difficulty in customizing the screens according to Apple's requirements, one of the people said last week.
The Korea Time reported recently that Samsung is the sole supplier of Retina displays for Apple's new tablet, and it seems that the initial batch of the screens was indeed produced by Samsung. But other rumours are still claiming that both Sharp and LG are reportedly expected to provide displays as well.
Noteworthy, Apple seems to have been able to produce enough inventory of the new iPad to avoid sell-outs despite a single display supplier.
Since the 3rd Generation iPad's launch, response to the new high resolution Retina display has been quite positive. There have been sporadic reports of defective yellow-tinged displays (see above) that have prompted some replacements. The new iPad screen has been described as slightly "warmer" than the iPad 2 screen, but comparison shots show a much larger difference in what are believed to be defective screens.

Leave a comment