Shipping Times for Several iPhone 6 and iPhone 6 Plus Models Improve to 3-5 Days

Ahead of the upcoming holiday season, shipping times for several iPhone 6 and iPhone 6 Plus models have improved to 3-5 days in the USA. This indicates that Apple suppliers are currently doing their best to assemble enough handsets to meet the demand. And that is good both for the guys from Cupertino and for the customers planning to purchase either 4.7-inch or 5.5-inch smartphone.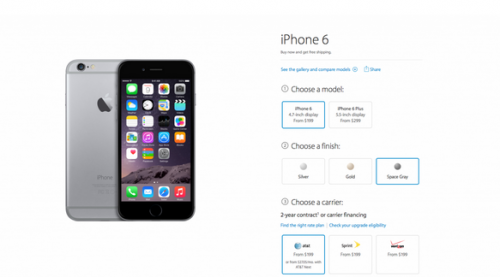 It should be noted, however, that only 16GB and 64GB iPhone models have seen shipping times improvements. Those who want to buy a 128GB iPhone 6 or iPhone 6 Plus have to wait about 10 days.
Apple will now ship the 16GB and 64GB models in any color from AT&T, Verizon, Sprint and T-Mobile in 3-5 business days.

If you're looking for the higher capacity 128GB version, it now takes 7-10 business days to ship for all carriers and colors.
This holiday quarter can possibly become incredibly successful for Apple as the recently-released handsets are immensely popular in the USA and the whole world.
Do you plan to purchase one of the smartphones in the near future? Why or why not? Leave your comments below this post.
[via iClarified]

Leave a comment