Siri Confirms Apple's WWDC to Take Place June 13th to June 17th

Every year, Apple organizes a special event for its developers called the Worldwide Developers Conference or WWDC. Up to this day, the official dates of the 2016 conference remained unknown, however, today, Siri surprisingly revealed the information about the upcoming meeting. According to Apple's virtual assistant, WWDC 2016 will take place June 13th to June 17th in San Francisco.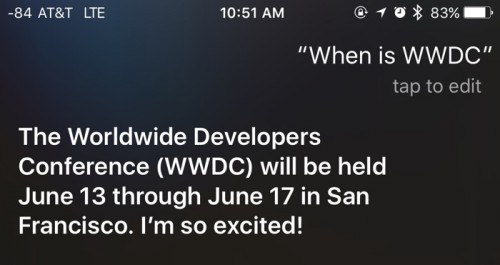 As we reported in January, Apple plans to hold its annual Worldwide Developers Conference on June 13 to June 17 in San Francisco, at the Moscone West convention center where the conference has been held for the past several years.
Earlier this year, rumors appeared on the Internet suggesting that Apple's WWDC will be held in June, possibly between June 13th and June 17th. Still, today's confirmation by Siri can be viewed as an official one.
[via MacRumors]

Leave a comment