Skype Video Calling Coming to iPhone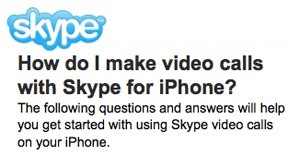 Skype has had an iPhone application since early 2009. Put video calling wasn't available there till the present moment. But the company has to roll out video calling for the iPhone or other mobile platforms. Skype is rumored to announce video calling support for the iPhone and iPod touch at CES 2011 early next month. The company has told that it is going to make a series of announcements concerning video calling at CES. Moreover, Skype will be participating in a panel called "Video Calling Gets Ready for Primetime".
The help document, available on Skype webpage, claims that users of a number of iPhone, iPod touch, and iPad models can use video calling. Curiously but some devices are not camera-enabled.
To make video calls with your contacts, you will need an iPhone 4, iPhone 3GS, 3rd generation iPod touch, 4th generation iPod touch or an iPad. Your contacts will only be able to see you if your device has a camera. Make sure your device is running iOS 4.0 or above and that you are using Skype for iPhone 3.0 or above.

Leave a comment