Sn0wBreeze 2.3: tethered jailbreak for iOS 4.3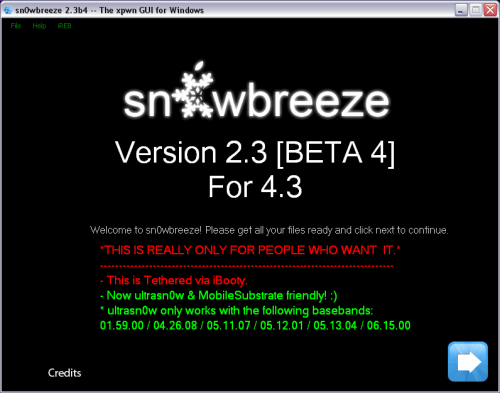 Hackers released Sn0wBreeze 2.3 beta 4 utility, which is able to jailbreak the latest iOS 4.3. This jailbreak is tethered for iPhone 4, iPhone 3GS new bootrom, iPad, iPod Touch 3G, iPod Touch 4G. Tethered means that every reboot you will have to connect device to a computer and boot it using special utility (iBooty). Sn0wBreeze 2.3 beta 4 provides untethered jailbreak for iPhone 3GS old bootrom.
Sn0wbreeze also preserves your baseband, which is very useful for unlockers. Using Sn0wbreeze you can update firmware iOS 4.3, while preserve old unlockable baseband. It also works with iPhone 3GS with 06.15 baseband.
You can download Sn0wBreeze 2.3 beta 4 for Windows here.

Leave a comment