Sn0wBreeze 2.8b10 released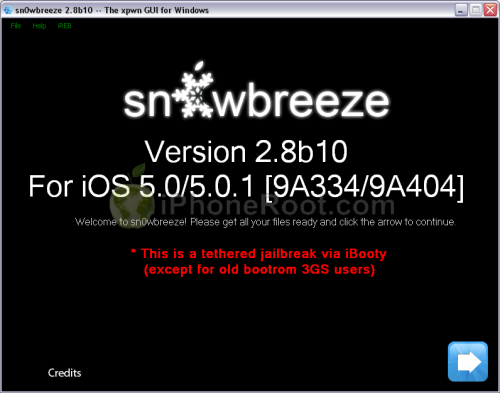 iH8Sn0w has released Sn0wBreeze 2.8b10. Here is a changelog:
Supports iOS 5.0 (9A334)/5.0.1-b2 (9A404)
Fixed iBooks sandbox crashing issues.
Fixed location services issues with iPhone 3GS users running the iPad baseband (06.15).
Re-added iPad baseband (06.15) install option to iPhone 3GS.
Removes UDID requirement/Beta timer in 5.0.1.
Tethered devices are booted via iBooty which is extracted to the Desktop after running sn0wbreeze.
As usual the jailbreak is semi-tethered for iPhone 4, iPad, iPhone 3GS with new bootrom, iPad Touch 3G, iPod Touch 4G and untethered for iPhone 3GS with old bootrom.
You can download Sn0wBreeze 2.8b10 here.
UPDATE: Sn0wBreeze 2.8b10 step-by-step jailbreak and unlock tutorials:

Leave a comment, read comments [4]