Soviet-era films being sold illegally on iTunes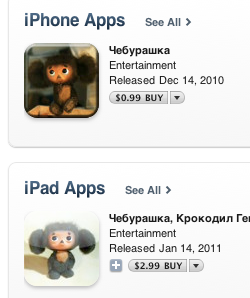 The BBC reports that some Soviet-era films are being sold illegally through the App Store. Films available via iTunes include such as Gentlemen of Fortune, Assa, The Diamond Arm, Kin-dza-dza and Cheburashka. The copyright holders confirmed that they didn't give their concern for their films to be sold in the App Store.
The BBC spoke with the software developer, Vladimir Penshin, who is said to have decided to offer these films for sale. His answer was little shocking: "Of course, I do not have any license agreement. This is all very simple. The companies, who can have complaints, submit them to Apple and Apple notifies me that they have to withdraw the application." Apple, for its part said that it took copyright complaints seriously and took action as soon as it received a complaint.

Leave a comment