Steve Jobs Dissatisfied With The New York Times iPad App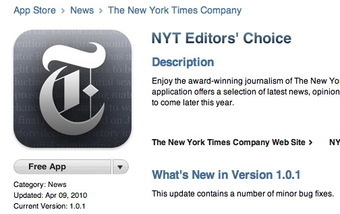 Ryan Tate from Gawker quoted people closed to the matter who said that Steve Jobs is dissatisfied with the free app New York Times Editor's Choice. The reason is that it has a limited content of the daily NYT.
The story started when some time ago Amazon made a deal with Times and received exclusive rights on its full content. So now if you have Kindle you should pay to gain full access to the NYT edition. The same full content is also available on the web and it's free. Moreover, the deal apparently implies that other competitors may have the full text but they must sell it at a higher price.
Few days ago the New York Times decided to raise the subscription price on the Kindle, from $13.99 to $19.99 per month. That was no wonder because the NYT warned before that they want to charge readers nearly $20-30 per month. With such a deal Apple was left with a truncated version of the NYT for the iPad. Ironically, the same version for iPhone remains to deliver the full content.
Obviously, that is the reason why Apple has been ignoring the NYT iPad app recently. It is even not listed as a "noteworthy" or "favorite" in the App Store. User reviews are also mainly negative and many people ask where the full content can be found.

Leave a comment