The Fifth Generation iPhone Rumor Roundup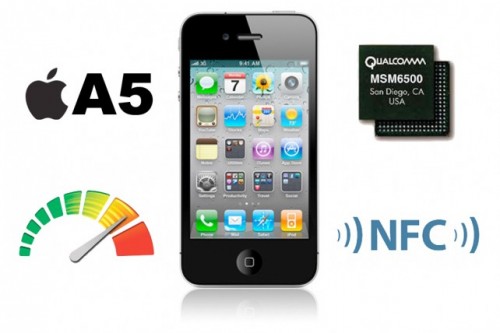 The iPhone 4 was launched more than seven months ago. So it's time for rumors about the next-generation Apple's handset. Let's imagine what we may expect from iPhone 5:
First of all, the next-gen iPhone might start provide support for NFC (a short-range high frequency wireless communication technology which enables the exchange of data between devices over about a 10 centimeter (around 4 inches) distance). This topic began after Apple hired an NFC expert last year. Some of mobile handsets, including the latest version of Android, already support NFC.
Facial recognition. Apple's purchase of facial recognition software developer Polar Rose could suggest some new security feature or iPhoto-like tagging in the iOS Photos app.
Improved search and voice commands.
Expected that the iPhone 5 will be equipped with the Qualcomm wireless communication chipsets to accommodate both CDMA and GSM needs, and a new multi-core A5.
Apple could upgrade the  iPhone's GPU from the POWERVR SGX535 to the OpenCL-capable POWERVR SGX543.
Predicted that the camera of the next-gen iPhone will be 8 MP and capable of 1080p video recording, though, it's doubtful.

Leave a comment, read comments [1]