Toyota claims to install CarPlay on vehicles, then deletes the article.

According to Toyota announcement on its U.K. blog, the company will be installing CarPlay on the coming vehicles starting in 2015. However, the information was soon deleted.
The initial article was called "Apple CarPlay: Coming soon to a Toyota near you". It said "Come 2015, you'll be able to get the iPhone experience you love in your Toyota with Apple CarPlay."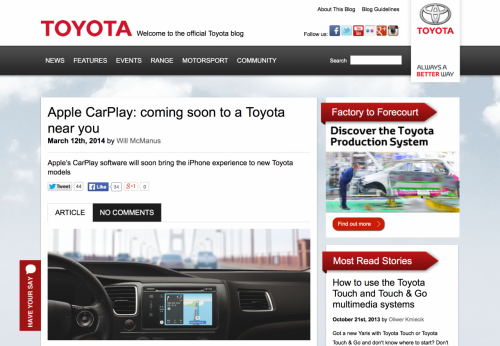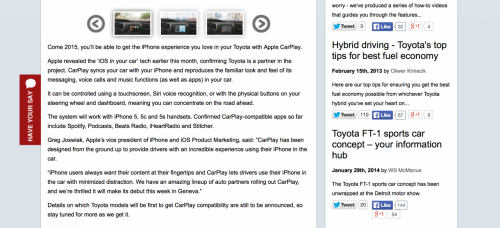 Later the entire article was replaced with a new one entitled, "Apple CarPlay: Toyota joins in-car iOS project" with the contents saying that "Apple's CarPlay software could bring the iPhone experience to future Toyota models."
The retract message is the following:
A previous version of this article said that Apple CarPlay would be in Toyota cars from 2015. This is incorrect and we are happy to put the matter straight. No announcements have been made about if and when Apple CarPlay will arrive in Toyota cars.
The reason for Toyota to delete the message is unknown, especially after the company was included in the list of Apple's committed partners.
In the original article the Japanese company promised, "Details on which Toyota models will be first to get CarPlay compatibility are still to be announced, so stay tuned for more as we get it."

Leave a comment