Apple Attracts Smaller Companies To Its iAd Network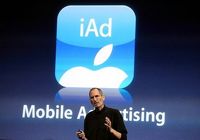 Those companies that want to buy interactive ads on Apple's iAd network may rejoice - Apple has lowered the minimum advertising buy from $1 million to $500,000.
John Paczkowski of Digital Daily says in this way Apple wants to broaden its platform and attract smaller companies who are interested in advertising of their products on Apple's network.

Few weeks ago it was reported that Apple's iAd business started "hurting" and the company is struggling to renew contracts and fill slots in order to make it more profitable again.
"...lowering iAds' million-dollar hurdle will reverse that trend, bringing more brands to the platform, and an increasingly larger portion of their annual ad spend to Apple."
Apple's iAds launched in July and can offer rich and interactive advertising experiences without exiting the app. The company attracted many major advertisers, but eventually they were frustrated by the strict control of their content which led to the delays in bringing iAds to the market.

Leave a comment