Apple Filed Application For '.apple' Domain Name Suffix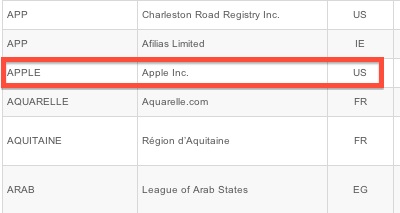 According to the Associated Press, the Internet Corporation for Assigned Names and Numbers has posted a list of around 2,000 applications for new domain name suffixes. These applications were received by ICANN as part of its program to expand existing domain naming system by adding new suffixes. Among the new domain name suffixes will be those based on brands so that companies can simplify URLs for their websites and enhance their branding.
According the list, Apple has paid application fee in the amount of $185,000 to apply for the ".apple" suffix, however it is unknown whether Apple plans to actively use the new suffix or it request it mainly for defensive purposes in order to keep other companies from taking it. Associated Press reports:
"If approved, the new suffixes would rival ".com" and about 300 others now in use. Companies would be able to create separate websites and separate addresses for each of their products and brands, even as they keep their existing ".com" name. Businesses that joined the Internet late, and found desirable ".com" names taken, would have alternatives".
Apple is the only company to apply for the .apple domain name suffix, while other suffixes such as .shop, .web, and .app have seen many applicants competing for the rights.
If Apple's request is approved, Internet users can access web pages for iPad and iPhone at iphone.apple and ipad.apple respectively. This will also simplify advertising and make URLs shorter and as a result easier to remember.
Our sponsor: iPhone development qarea

Leave a comment