News tagged 'Видео'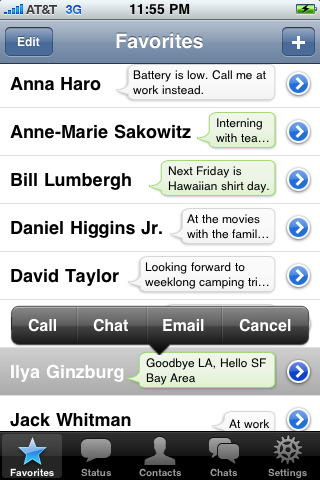 Using a popular BlackBerry and iPhone messenger WhatsApp you can now make use of its new ability to forward individual messages or delete them.
WhatsApp is a smartphone to smartphone messenger and it currently runs on BlackBerry and iPhone. With the help of push notifications utilized by this application you can instantly receive messages from your colleagues, friends and family. It's a great alternative to SMS because WhatsApp allows you to send and get messages, audio notes, pictures and video messages without having to spend a cent. All WhatsApp features are included in the base price and you won't need to make any extra purchases for the application.
The new version of WhatsApp features:

Read the rest of this entry »

Leave a comment

If you just want to know about all new iOS4 features quickly here's a great video that introduces iOS4 in 10 minutes. iPhone 3GS is used in this video. If you have iPhone 3G or iPod Touch 2G you won't get the multitasking.
Let's watch:
via tipb
UPDATE: Learn iPhone 4 in 10 min: video quick-start guide

Leave a comment

Skype is developing a multi-tasking iOS 4 compatible version of its VoIP app for the iPhone. The company promises the new version will use all the new features of the new iOS 4.
However the new version won't be introduced until people from Skype will be confident the app meets all expectations. That means no due date yet.

Leave a comment