LUXA2 H4: Elegant Apple iPad Holder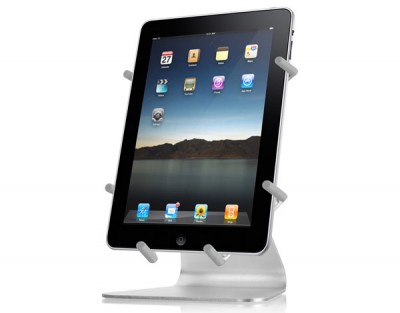 Thermaltake Technology company has a devision called LUXA2, which has many interesting luxury products. The recent interesting one is LUXA2 H4 - the Apple iPad solid-aluminum holder.
The holder looks really nice and is well manufactured. The main material is aluminum. The design is great and reminds us different Apple products, especially the iMac stand. LUXA2 H4 holds the iPad with two short and two V-shaped arms, that have six rubber nubs. The nubs tightly grip the iPad without scratching it. The user is able to adjust the width of the stand by pulling these arms. That's why LUXA2 H4 fits not only for the iPad, but can hold Amazon Kindle and many other eBook readers and tablets. This gives the H4 additional advantage over other stands on the market.
The holder also allows 360-degree rotation and 300-degree vertical adjustment. So there is no problem putting iPad at the right angle. Setting the iPad in portrait or landscape orientation is really very easy. However be careful rotating the device, since there are no V-shaped arms on the top.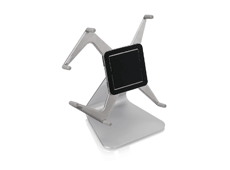 LUXA2 H4 is great for internet browsing, ebook reading, watching movies and even gaming. It looks especially good when used with iPad and external keyboard.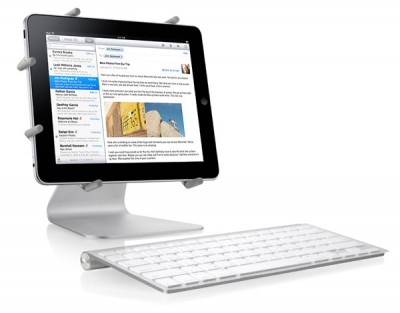 Specifications:
Height: 206mm (8.12 inches)
Width: 151mm (5.98 inches)
Depth: 138mm (5.44 inches)
Weight: 446g / 0.98 lbs.
Adjustable Angle: 360° (Rotated) and 300°(Vertical)
LUXA2 H4 costs around $59.99. The list of distributors is available here.
Here are more photos and video with LUXA2 H4:
Video:
You can find out more information on luxa2.com.

Leave a comment