40% of U.S. iPhone Users Upgraded to iPhone 6 or iPhone 6 Plus - CIRP

According to the latest report from a research firm called Consumer Intelligence Research Partners (CIRP), nearly 40% of the iPhone owners in the United States of America have upgraded to the iPhone 6 or iPhone 6 Plus since the release of the handsets last year. The total number of Apple's iPhones in use was equal to about 94 million in March. 25 million out of this number were iPhone 6 units and 13 million - iPhone 6 Plus units. Since March, the number of active iPhone users has grown.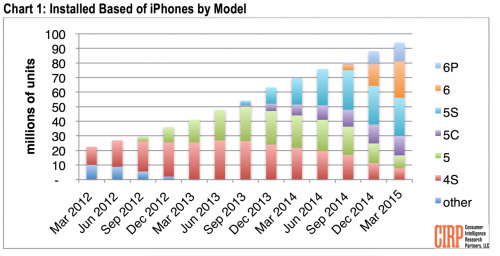 Here's how Josh Lowitz, Partner and Co-Founder of CIRP commented on the issue:
Our estimates indicate that 40% of US iPhone owners have upgraded to an iPhone 6 or 6 Plus. We see 56 million US iPhone owners with older models who are potential upgraders.
CIRP claims that the guys from Cupertino managed to sell 38 million of iPhone 6 and iPhone 6 Plus units since the release of the smartphones back in September. This is a huge improvement over the iPhone 5s sales. During the same period, the number of 5s units sold in the USA was equal to only 18 million.
Looks like the switch to 4.7-inch and 5.5-inch display size contributed to the success of the iPhone greatly.
[via iClarified]

Leave a comment