5 million next-gen iPads will be shipped in the Q1 of 2011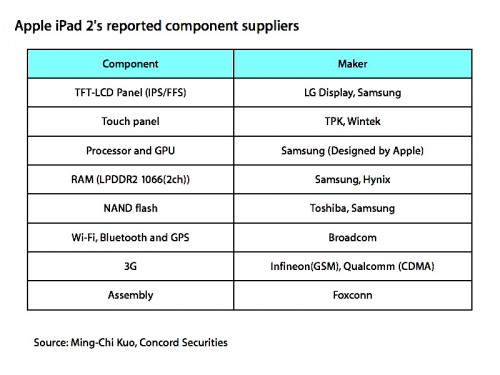 Concord Securities analyst Ming-Chi Kuo has recently released another report, where he states that the next-gen iPad won't get new resolution this year.
"The most important reason why iPad 2 won't have retinal display is yield rate of panel making. At this point, making high resolution and bright IPS/FFS panel is not easy and the production volume and cost couldn't meet Apple's requirements."

However, the display will be further improved. Apple focuses on its thickness and anti-reflection to compete with Amazon's Kindle.
"iPad 2 display module is 30~35% thinner than iPad 1 and it's helpful for better form factor".
Besides that, iPad will also get more processing power, more RAM, faster memory access and new graphics chip in order to have "competitive advantage for coming tablet war this year". First of all, Kuo explained why it is so important to bring dual core to iPad 2.
"iPad 2 will use [ARM] Cortex-A9 dual core processor running at 1.2GHz. Increasing 1~2% single core processor clock results in a 3~5% power increase and dual core could get a better balance between computing power and power consumption."
Kuo also revealed new and already known details on iPad 2 hardware:
iPad 2 will get SGX543 graphics chip that is ~200-300% more powerful than the chip used in iPhone 4 and first iPad;
The device will sport 512 MB RAM running at clock 1,066 MHz in order to achieve bigger memory bandwidth (iPhone 4 memory clock is 800 MHz);
iPad 2 will also get two cameras, the same that are used in the latest iPod touch. Front camera will be 0.3 mega-pixel, which is enough for iPad's resolution, and it is intended to be used for Photo Booth and Facetime, and the rear one will be 1 mega-pixel.
Kuo did not confirm whether the iPad 2 will get an SD card slot or not, but told that would be wise.
"There are more and more photo and video editing applications for iPad in App Store. The SD slot could let users easily transfer photo and video files made by DSC and DV to iPad and edit them".
As of CDMA technology, Kuo said that Apple will release Wi-Fi, GSM (based on Infineon chip) and CDMA (based on Qualcomm chip) models of iPad 2.
The report stated that Foxconn will continue to be the sole maker of iPad. Its production started this month, and in Q1 of 2011 the company will product 4.5-5 million units for Apple. Eventually the device will go to market approximately in late Q1 of 2011 or at the beginning of Q2, depending on supply chain shipment status.

Leave a comment