76% of All Devices Sold in Japan in October Were iPhones

Apple's iPhone has always been extremely popular in Japan. But nobody expected that iPhone 5s and 5c could make more than 75% of sales in this country. Well, if to believe the latest data, as many as 76% of all the devices sold in Japan in October were iPhones.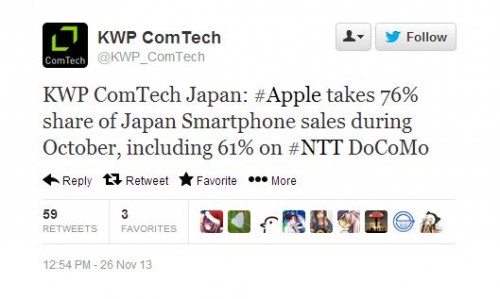 According to what Kantar Worldpanel ComTech reports (via Unwired View),
Japan is probably the second best iPhone market, after U.S. At least in market share. China either already is, or will soon be bigger in absolute numbers.

Apple has been doing very well in Japan for years. And now that country's biggest mobile operator – NTT DoCoMo – started carrying iPhone 5S and 5C, it is doing even better.

[...]

According to Kantar World Panel, 76% (!) of new smartphones sold in October were iPhones. Including 61% on NTT DoCoMo.
Impressive result for the company from Cupertino, don't you think so?

Leave a comment