Apple allegedly paid over $1M for iAd trademark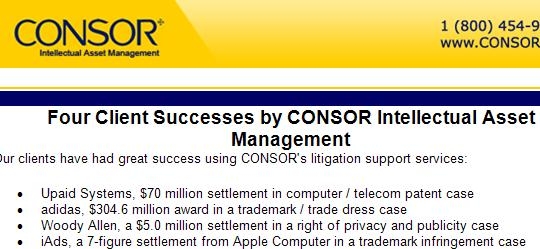 As you may remember, in April 2010 Apple announced its iAd advertising program. Shortly after that Innovate Media Group LLC filed a lawsuit against Apple, accusing it of unfair competition and trademark infringement. The history of Innovate Media reveals that the company has been also producing "iAds" - online video ads - in 2006, and in 2007 the respective trademark was filed.

According to the CNET report, the suit had an intellectual property consulting firm named Consor involved in it, and recently the company revealed the details of the confrontation and subsequent settlement, which was reached in July. So the "last listed owner" of iAds trademarks is now Apple.
The release, posted by Consor, shows that the company provided analysis and quantification instruments for Innovate Media, as it is reported that a trademark infringement case ended with a "7-figure settlement", which is considered as "a highly favorable settlement". But Doug Bania, who oversees the company's business licensing and development units, told CNET that the release actually "wasn't accurate".
But if 7-digit figure for settlement is true, this is not a big price for Apple, as the iAd company launched with ads which were $60 million worth.

Leave a comment