Apple Fixes MacBook Pro's Keyboard and Trackpad Bugs

Apple on Thursday released an update for late-2013 13-inch MacBook Pros addressing the issue with laptop's keyboard and trackpad freezes.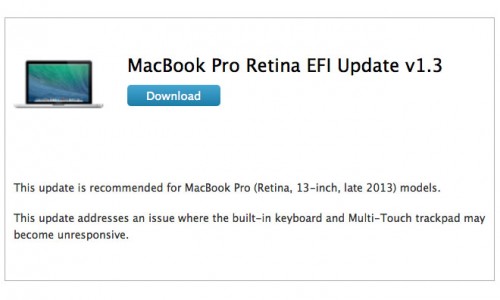 As you might have learnt from previous articles, a large number of new MacBook Pros are faulty - due to the hardware conflict with OS X Mavericks, keyboard and trackpad can sometimes freeze. And that must have been annoying, I suppose.
Well, looks like things have changed. According to Apple,
This update is recommended for MacBook Pro (Retina, 13-inch, late 2013) models.

This update addresses an issue where the built-in keyboard and Multi-Touch trackpad may become unresponsive.
If you're one of those users who have encountered the problem with MacBook Pro's keyboard and trackpad, you may download the newly-released and what is important, free bug-fixing update from the Mac App Store right now.

Leave a comment